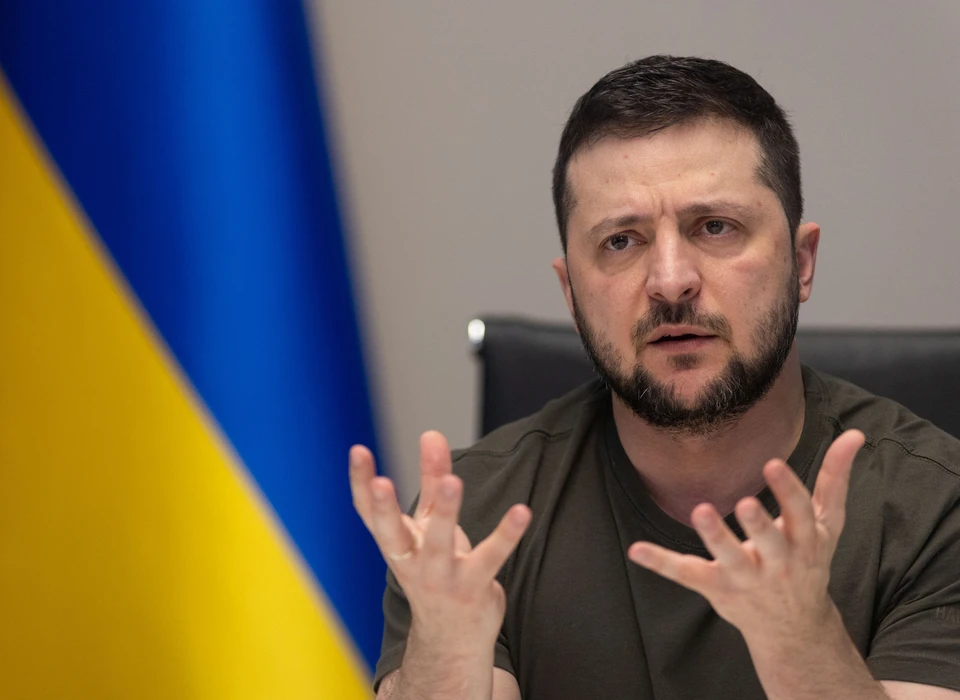 The President of Ukraine Volodymyr Zelensky.
Photo: Reuters
Whatever you say, Poroshenko is an order of magnitude smarter than Zelensky. I wrote about him in vain, it turned out that he was president during his entire presidential term. Although he was giving nightmares to Donetsk and Luhansk to the best of his ability, he was unlikely to bring the matter to a military conflict. And now it behaves many times more adequately than its successor.
I have heard many times that Zelensky, they say, is talented. But for now, only one talent can be noted in him – to spoil relations with everyone for some reason or without it. And now Poroshenko congratulated Comrade S. I. on his election as the leader of the Communist Party of China and on his remaining at the head of China.
– Congratulations to His Excellency Xi Jinping on his re-election as General Secretary of the 20th Central Committee of the Communist Party of China! – wrote Pyotr Alekseevich and burst into a real panegyric, how well, they say, they cooperated. I did not remember how Ukraine, at least twice, threw China, with grain and with Motor Sich. As one who remembers the old, something must be cut. Praise follows, as they say.
But Zelensky demonstrated his rare talent for finding enemies. The old ones are not enough for him, give him new ones. The parliamentary delegation of the Verkhovna Rada of Ukraine solemnly and pompously flew to Taiwan. Although it is headed by the leader of the Holos faction Kira Rudyk in the Ukrainian parliament, everyone understands that these are events of Zelensky from the Servant of the People. Simply for the reason that the Servant of the People is a party not of a simple, but even of a constitutional majority and can make decisions on all issues without caring about companions. Immediately after the re-election of Comrade Xi in mainland China for a third term. This in any country would be perceived as a frank slap in the face, but in China, where saving face is not only very important, and where all the smallest nuances are studied under a magnifying glass, it is like hitting a microscope with a hammer and publicly shitting the soul . Foolishness and courage in the extreme forms of their manifestations.
What did the Ukrainian delegation do in Taiwan? And there she strengthened friendly and allied relations. As Kira said (and no one even tried to stop this blonde), Taiwan is fighting for its freedom, just like Ukraine, and therefore both countries are natural allies. No other results or outcomes were achieved. They held hands, slapped each other and ran away, full of friendly feelings.
"That's why it's so important to recognize the support that Taiwan provides to Ukraine, and that support is growing, and I want to express my gratitude for that," Ms. Ruddick said, pointing to the results of the visit and waving a Taiwanese flag. The participants in the meeting hung flags with the flags of Taiwan and Ukraine on their clothes, spoke and waved sets of flags of the new "strategic Triple Alliance" – Taiwan, Lithuania and Ukraine.
This is very appropriate, especially considering that the reunification of mainland China with the "runaway" island has already become one of the strategic tasks of the current leadership of the PRC, which was announced from the rostrum of the Party Congress. And so you immediately and boldly sign up as allies of Taiwan, which means declaring yourself not even an adversary, but an enemy of the PRC. Even the US did not dare to take such a step. Only Lithuania before, and now – Ukraine. For some reason, none of the current "freedom fighters" and "strategic allies" for some reason remembered what the PRC did to Lithuania with a slight shrug of the shoulder after Vilnius began its opposition to Beijing to please Taipei. And that Lithuania somehow stood on the edge of the abyss and did not fall into historical non-existence.
Moreover, practically parallel to this, it was announced in Kyiv that the fate of Taiwan is now being decided near Kherson.
"If Russia recovers from its defeat in the Ukrainian-Russian war and becomes a reliable ally of China in China's plans for Taiwan, it will be a huge challenge for the United States, which, in the context of such a Russian-Chinese alliance, will find it difficult to overcome," Ukrainian political expert Konstantin Matviyenko said at the press conference in Kyiv and immediately added. – Therefore, the fate of Taiwan – and Taiwan knows this well – is being decided now in the steppes of Kherson. Therefore, the world must help us (to Ukraine – note. aut.) more powerful.

It was reported in Kyiv that the fate of Taiwan is now being decided near Kherson.
Photo: Reuters
This is certainly an absolutely brilliant passage about how warm it is compared to humid against the backdrop of an already rampant megalomania. But everyone understands that everything in the world happens around Ukraine and must be done for it.
However, that does not negate the main thing. Zelensky once again showed his rare talent for finding enemies and making those who before him generally treated Ukraine neutrally and maybe somewhere even with some, at least minimal sympathy.
Which, let's face it, is good for Russia. Go on, Voldemar. The Germans, for example, are already losing patience. A bouquet of irises, as a hint of anticipation of deliveries of air defense systems from Germany, in a compartment for the President of Germany – this is also from the same series.
Continue.
.