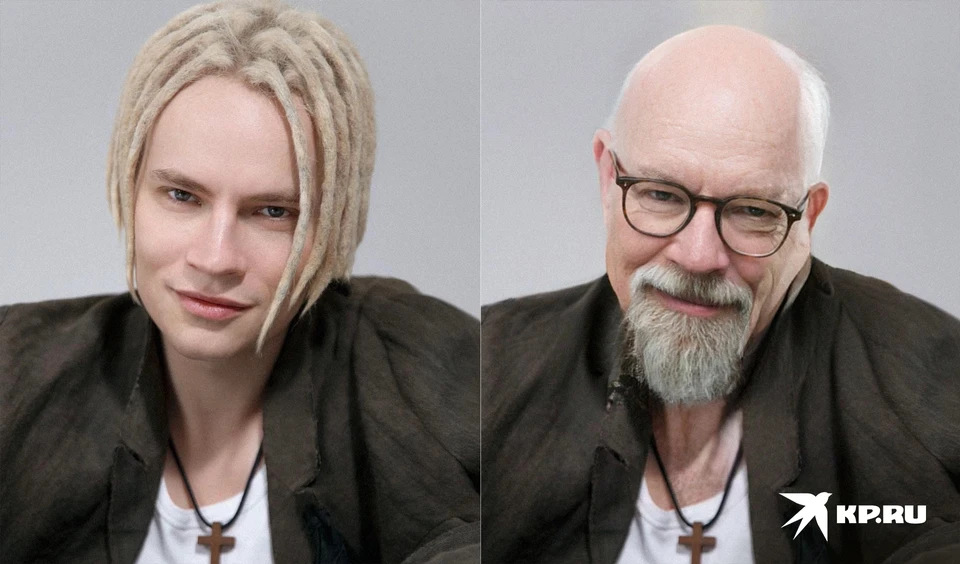 Have you been asking when the patriotic songstress will ditch her pigtails? The answer is: for a pension, for sure.
Photo: Pyron VALIULIN
Yet someday it will happen: the screen stars, opinion leaders and, God forgive me, influencers who today shine with youth and energy will live to see gray hair. However, aging year after year with them, we may not notice these changes. But smart technology even today allows us to dream about what today's celebrities will look like after retirement. The site KP.RU allowed itself to age the rich and famous. And some of them really surprised us!
BASTA, 42

This is how the rapper will become such a wise gray old man after all these years. And his name will no longer be Basta, but Vasiliy Mikhailovich. Judging by the deep crease on the bridge of the nose, this guy is not worth arguing with.
OLGA BUZOVA, 36

Our smart technologies stubbornly refuse to age the singing host. Apparently, they calculated that Olga Igorevna would rejuvenate to the last with cosmetic procedures and artificial hair dyeing. You definitely can't sit on such a grandmother next to the knitting needles!
PAVEL PRILUCHEN, 35

With rays of wrinkles around his eyes and a graying beard, like Santa Claus, the "major" is not only older, but also kinder – have you noticed? Over the years, the actor apparently stopped swinging his fists: we could tell by his intact teeth. In general, Pavel Valerievich, do not be a brawler!
Danya Milokhin, 20

The gorgeous TikToker, whose accidental success could end in an Ice Age feint (the other day, the blogger ran away from the TV project, saying that hanging out with friends was more important to him than shows), became a grandfather in rock style. Danila Vyacheslavovich no longer pretends to be a cute blonde – he has finally grown his natural color.
CHRISTINA ORBAKAITE, 51

If you, like us, expected to see a copy of Alla Pugachova, you will be disappointed. Kristina Edmundovna seems to have moved away from the stage, plastic surgery and other beauty hacks. Judging by her complexion, she meets her retirement somewhere on a ranch under the scorching Texas sun.
DIMA BILAN, 40 years old

And the "night hooligan" has not changed at all! Except that the beard turned white and the glasses got stronger on the nose. By the way, Bilan is the only pensioner in the world named Dima (not Dmitry) Nikolaevich: at one time the singer had to change his passport data due to a copyright dispute for the Dima Bilan brand.
JULIA BARANOVSKAYA, 42 years old

Who would have thought that our TV presenter in her old age was the spitting image of "their" Jane Fonda! We don't know what Yulia Genadievna's Hollywood roots are, but her age clearly suits her.
NASTYA IVLEEVA, 31 years old

Our technology is sure that the YouTube star will continue to trend. It seems that the blogger's love for a healthy lifestyle defeated an equally strong love for beer: at least Anastasia Vyacheslavovna still draws arrows with her steady hand.
CHRISTINA ASMUS, 34

The actress should take our advice and not change her hairstyle: her blonde bob looks very young. Add to this a competent make-up, and not body fat – and Kristina Igorevna will not change at all. Keep going!
SHAMAN (YAROSLAV DRONOV), 30 years old

Have you been asking when the patriotic songstress will ditch her pigtails? The answer is: for a pension, for sure. According to our calculations, the vegetation of Yaroslav Yuryevich will move on his face, due to which he will become even more stylish and brutal.
POLINA GAGARINA, 35

Well, what a sweet grandma! With such correct facial features, Polina Sergeevna is not afraid of natural old age without botox and makeup. Not a bad argument for a healthy lifestyle and yoga, right?
.