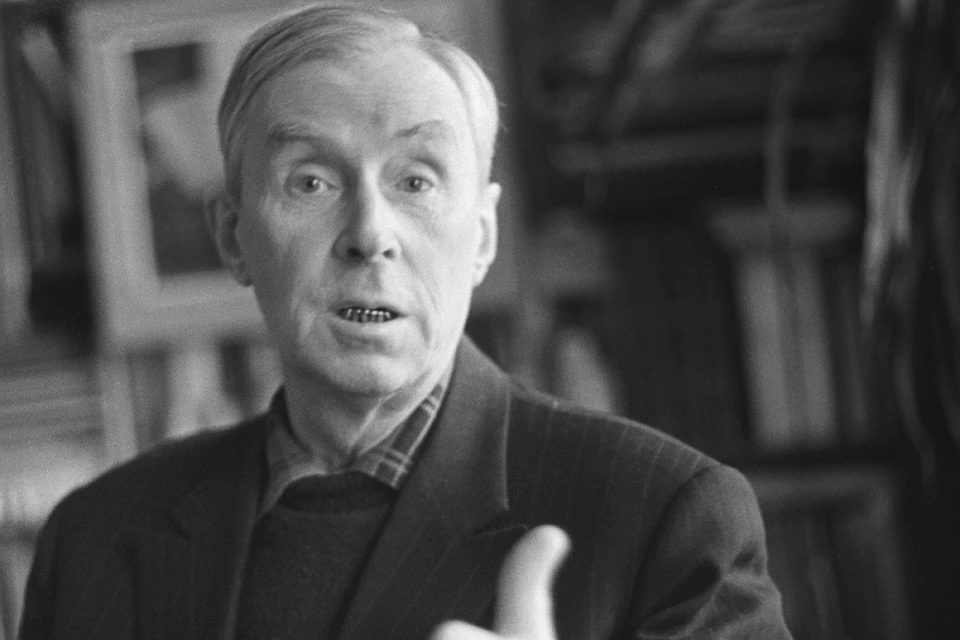 It is 120 years since the birth of the great Soviet actor. Photo: Valery Gende-Rote/TASS
HOW TO HIDE UNDER THE SOFA BY STANISLAVSKI
Erast Garin loved by colleagues. Faina Ranevskaya and Igor Ilinsky said about him: "There has never been and never will be a second artist like Garin." And the audience loved it. His most famous role was the king in "Cinderella", but he, unlike many theater actors, was lucky on the screen: he created many other small and large masterpieces. A groom named Epaminondas Aplombov in "The Wedding" by Chekhov. Two more kings in productions by Yevgeny Schwartz – "Ordinary Miracle" and "Cain XVIII". Tarakanov in "Musical History". Santa "Girls Without Address". Professor Maltsev in "Gentlemen of Fortune" … Even minor roles, such as the theater critic in Gaidai's "12 Chairs" or the ladies' hairdresser in "The Unfinished Tale", are imprinted in the viewer's memory for a lifetime.
He was born in Ryazan, in the family of a forester, and his real name is Gerasimov (Garin is his mother's surname, which he takes as a pseudonym). Youth coincided with the revolution and the Civil War, and then he said that the atmosphere of the era was to blame for the fact that he became an artist: "After the February Revolution and even more so after the October Revolution, people somehow immediately felt in themselves the previously dormant reserve of creativity forces. The revolution was perceived by us young people as a huge celebration. Each union had its own club and a compulsory drama club. And everything, resolutely everyone played.
At first he played in the city theater in Ryazan. Then, enlisting in the Red Army – in the garrison amateur. Then he came to Moscow (in which, despite the war and devastation, 94 theaters functioned) – he met Vsevolod Meyerhold and soon became his favorite artist. Meyerhold's wife, Zinaida Reich, was even a little jealous: when the director put "The Mandate" on Nikolai Erdman, he rushed mostly with Garin and paid much less attention to her heroine. "Devilishly talented. comedian. Sharp, evil… It will go far," Meyerhold said admiringly to Mayakovsky. Garin was exactly the actor that Meyerhold dreamed of all his life – able to play both "heroes in queues", and mind-blowing vulgarities, and Khlestakov, and Chatsky.
Stanislavski, who came to see the Mandate out of curiosity, was also impressed by Garin's work and went backstage to congratulate him. According to legend, out of fear and excitement, Garin hid from Konstantin Sergeevich under the sofa, on which Stanislavsky sat down with Meyerhold to discuss the performance. So he lay under him while they talked.
Garin twice left Meyerhold's theater (and later, in his old age, called himself a fool for it), but maintained good relations with him until the end. Meyerhold spent his last evening before his arrest visiting Garin and his wife, director and screenwriter Hessie Lokshina. A few more theatergoers gathered there. We drank Riesling, ate pancakes and had a good time. Meyerhold kept trying to contact Zinaida Reich, but he was not connected to the apartment. He couldn't even think that a search was already underway at this moment. In the morning, Meyerhold left the Garins and Lokshina, looking at him from the balcony, noticed how two huge (almost Gogol, from the "Chief Inspector") rats were running in his path. For some reason, she couldn't forget him for a long time.

His most famous role was the king in "Cinderella", but he, unlike many theater actors, was lucky on the screen: he created many other small and large masterpieces.
Garin himself, fortunately, escaped arrest and death in the Stalinist camps. But things didn't work out for him. The film "Marriage", which he staged together with Lokshina, was first criticized, and then simply destroyed, washing the negative and sending all the copies to the trash (Garin until the end of his days tried to find at least one surviving copy, but neither he, nor any other "Marriage" has yet been discovered). His film "Duel" by Kuprin also dies. And "Doctor Kalyuzhny" by Yuri German appeared on the screen, but Garin was categorically forbidden to play the main role in it: they said that he lacked "monumentality", that he did not look like an ideal Soviet hero. He was able to play positive characters in films only with the passage of time when he became a handsome old man.
But even the king in "Cinderella" almost fell victim to Soviet officials. Garin was called by one of the heads of Lenfilm and said: "Very alarming, Erast Pavlovich! You are not playing a real king. There are no such things in life. We have to rethink the whole role." Fortunately, 80% of the scenes in "Cinderella" have already been filmed and reshoots would cost too much – so the king remains as Garin imagines him.
Nadezhda Kosheverova, director of "Cinderella", recalled how one day during filming it started to rain and Garin wanted to read poems by Mayakovsky. And he read them under an umbrella, and the whole film crew listened to him with delight and did not disperse … Then Arkady Raikin played the king in the Cinderella radio show – he was terribly afraid of entering into a rivalry with Garin, whom he respected immensely. But it turned out that Erast Pavlovich is easily ready to give other actors "his" roles – "if it is not Mayakovsky". He adored Mayakovsky from the moment he saw a high school student on the screen in the movie "The Young Lady and the Hooligan", was very proud to meet him, recorded many compositions based on his works for the radio.
CHAMELEON EYES
In the early 1960s, on the set of the film "Russian Souvenir", Garin met Valentin Gaft. At first, Erast Pavlovich looked carefully at his partner, and then unexpectedly asked: "Young man, would you play the role of a scientist in my play "Shadow", did the artist start drinking with me?" Gaft remembered the first visit to Garin's home until the end of your life. "I remember we went to his office through some rooms, rooms, rooms … So, passing by one of them, I saw on the left some kind of half-child bed, almost with a net, and there, oh God, under a sheet, it seems to me se, is a dead man. The sheet covered such a weak, weak body, and the lifeless head of the deceased hung from the bed. An absolute morgue. I entered the study, not understanding how Erast Pavlovich did not pay attention to this. It was his wife Hessia, his famous assistant dubbing artist. We sat down, he began to talk about Meyerhold, about the Shadow, about the role, but I always wanted to say: "You know, Erast Pavlovich, I think there was an accident in the next room to you" .. , It subsequently turned out that Hesya always she looked like this and everything was fine, she was just fast asleep. By the way, she survived Erast Pavlovich for many years.
In fact, Lokshina outlived her husband by only two years. And their relationship lasted almost six decades. At one point, Garin went to another woman, the writer Lyubov Feigelman (Rudneva), but their marriage lasted only a few years. He returned to Lokshina, whom he adored (but at the same time affectionately called "Quaz", which was short for Quasimodo …)
Many recalled his chameleon eyes, which changed color when he felt strong emotions – from gray to green (this sometimes happens, this is a poorly understood medical phenomenon). Unfortunately, a tragedy is associated with them: in the mid-1960s, during the filming of the last scene of the film "Merry Days of Rasplyev", the actors played snowballs and one hit Erast Pavlovich in the eye. He lost it. And the second eye saw very poorly – so it was difficult for him to shoot. But he plays a lot on the radio and voices cartoons (what's an Eeyore Donkey worth in Winnie the Pooh!)
It was said that, shortly before his death, he had become so violently depressed that he practically stopped speaking. This is not entirely true: there are memories of people who went and talked to him several months before his death. But still, the end of his life turned out to be sad: the brilliant comedian played his main tragic role in life.
And when he died in 1980, colleague Boris Andreev wrote about him: "Someone must, absolutely must carry among people the bonds of selflessness, a person with stable purity of soul, be a standard of wisdom and simplicity of heart." Someone must resist human weakness, especially among people engaged in art, sometimes weakening under the weight of hidden and unfulfilled desires, deceived hopes … Garin easily bore this burden.
.