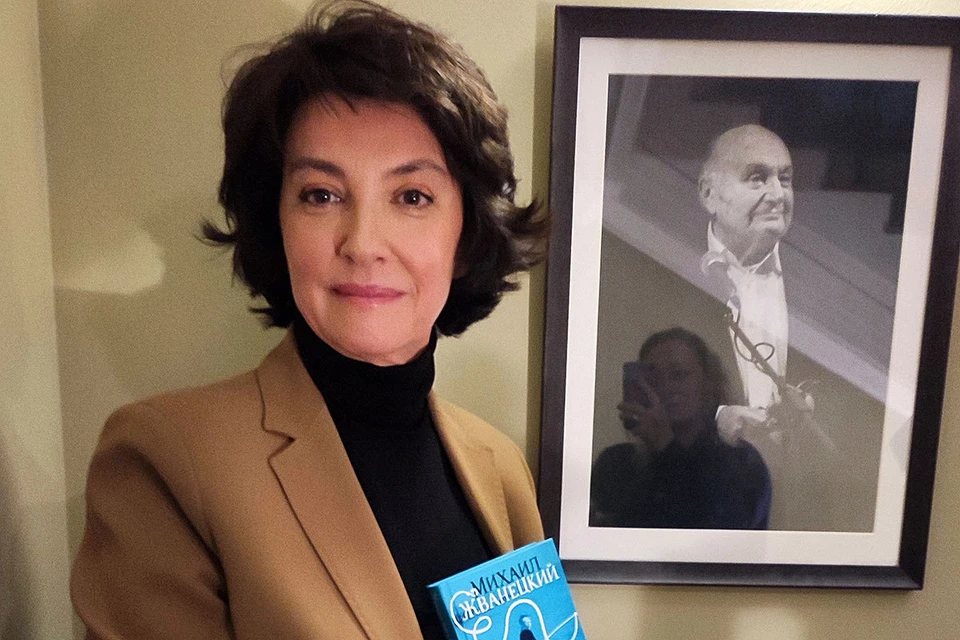 Mikhail Zhvanetsky's widow Natalia
Photo: Anastasia PLESHAKOVA
In November, Exmo publishing house published Mikhail Zhvanetsky's book "Texts for Reflection". It includes both the famous aphorisms of the writer: "One awkward movement and you are the father", and those that have not been published before, although it is possible that they sounded from the stage of his performances. The collection was compiled by the writer's widow, who after his death in 2020 did everything to preserve his memory. FROM Natalia Zhvanetskaya we talked about the new book and more.
– Faina Ranevskaya is credited with aphorisms that she never said … Valentin Gaft was very upset when epigrams that he did not compose were published under his name …
– Misha was also credited with non-his lyrics. But he was not offended – says Natalia Zhvanetskaya. – Some of his expressions were paraphrased and passed off as Zhvanetsky's aphorisms. Especially when the internet came along. What you won't find there. And you can't follow everything. Misha took it calmly. Also, I am often sent texts that Zhvanecki allegedly composed, although I understand by ear: it is not him. But I do not dissuade, I do not expose. For what? This is Misha's memory. So, he is remembered, loved – so be it.
– For 17 years, Mikhail Mikhailovich was the host of the TV show "On Duty in the Country", where he answered the most pressing questions that concern everyone. How would he react today to the events in Ukraine?
– I would be very upset. He has always emphasized that he has two homelands: Russia and Ukraine. We lived in two countries, in two cities. The winter and spring were spent in Moscow. Summer and autumn – in Odessa. There is south, sun, sea, friends, communication. Almost daily gatherings at our house. Misha did not like to let me go for a long time. So my girlfriends came to us.
– I imagine what it was like. Poor Zhvanetsky, nevertheless, they expected from him a wit, a fountain of jokes …
– Quite the opposite: Misha listened with interest. He never tried to make someone laugh, never made a joke on purpose. He and someone else's humor, in my opinion, are difficult to perceive.
Only on stage was the laughter of the audience important to him, as well as the reaction of the audience. He always spoke his mind. But he had such an ironic view of things and such self-irony that he made those around him laugh. At the same time, he had a great love for people, even when he was ironic. There was no ill will or arrogance in him. He was very tolerant. If there was any dissatisfaction, it was only from himself.
In general, Odessa humor is very specific: it seems to you that Odessans are constantly joking and trying to make you laugh. And they're not kidding. That's what they say in Odessa.
– Widows of writers after the departure of their famous husbands are often left without a livelihood. As far as I understand, this is not your case. Mikhail Mikhailovich took care of the family …
– And he took care, and I have my own income, which now replenished the copyright, since I am the sole heiress and copyright holder of Zhvanetsky's works. This is his order – leave me everything, including his creative legacy. All problems were solved during Misha's lifetime. He said: the documents must be in order. I made such a decision in order not to confuse the children, so that there would be no quarrels and scandals. Such stories are on everyone's lips. Yes, and it's weird when able-bodied kids live off deductions left by their parents.
– What does your son Dmitry Zhvanetsky do?
– He has a small business. He helps me realize my various projects. I jokingly call him my sponsor. He is quite a witty and ironic young man. It seems to me that he writes humorous stories and even publishes, but under a pseudonym. Because the surname – Zhvanetsky – obliges. Outwardly, Mitya looks a lot like his father.
– Not everyone knows the story of your acquaintance with Zhvanetsky. Was he already a famous satirist, a performer of his own texts?
Yes, he was already famous. We met in the early 90s. Misha was 56 years old, I was 24 years old. My friend offered me a part-time job – delivering coffee at the Odessa club. There I met Zhvanecki. Although theoretically I could have met him earlier. It is very likely that I saw him on the street as a child, as we lived in neighboring houses. His father was a general practitioner and his mother a dentist. My grandmother knew his father as an excellent specialist. When she was informed that I was marrying Mikhail Zhvanetsky, she was delighted: "He is an excellent doctor." And so I remained ignorant that I was not married to a doctor, but to his son.
– How you conquered Mikhail Zhvanetsky is not difficult to understand: tall, long-legged, young beauty. But what does he do with you? After all, he was no longer young and not handsome …
– He conquered with his talent and intellect. The sexiest place in a man is his brain. Plus human qualities. Zhvanecki was an honest, kind, decent person …
– And generous?
– Well, how can I say … All his ex-wives spoke of him as an incredible miser. I didn't notice it for him. He didn't refuse me anything, but I didn't ask for much, neither expensive cars nor diamonds. We must have met at the right time in his life.
I am now the same age he was when we met. And I admire his courage: at 56, he decided to start a family. He took responsibility not only for me but also for my many relatives. I wouldn't have the strength or the will to do it right now.
– That is, was it easy to be Zhvanetsky's wife?
– Yes! Misha was a wonderful husband.
READ ALSO
Mikhail Zhvanetsky was very rich: an apartment in Moscow, a mansion in an elite village, houses in Odessa and the USA
The Satirist Owned Million Dollar Properties (more)
This is how we will remember the great satirist: The life and smile of Mikhail Zhvanetsky in 12 pictures
More than half a century on stage, thousands of performances, millions of tickets sold and happiness in the eyes of the audience, which the artist gave us (more)
.