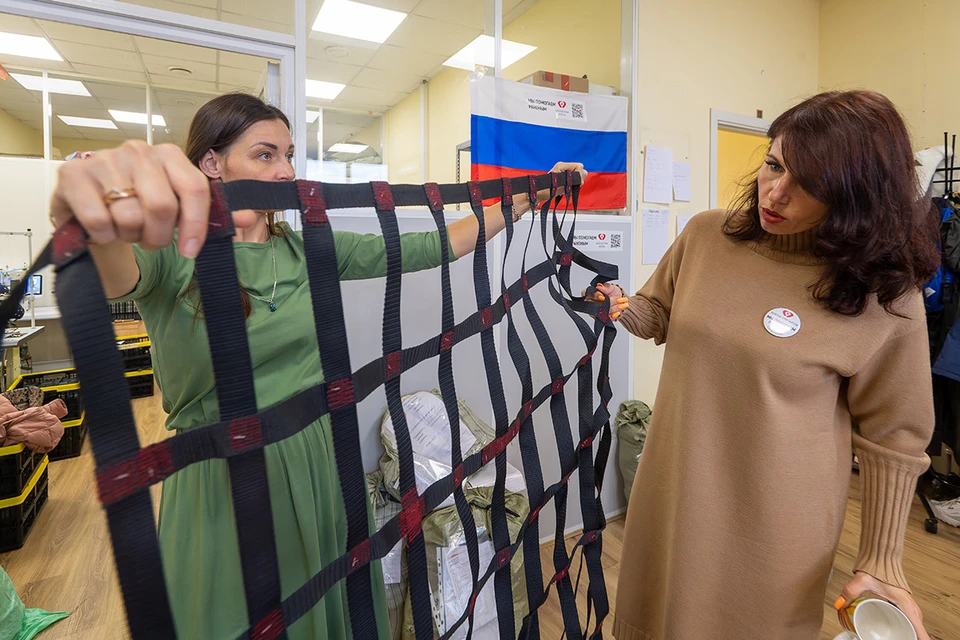 Lyudmila Sushetskaya (right) examines Thomas's stretcher.
Photo: Mikhail FROLOV
Small office space in New Moscow. Two dozen women are busy: one is cutting a sling (belt sling) and passing the cuts to others. The others arrange the blanks on the tables. One-two-three, clipped at the ends, walked with a tag holder horizontally and vertically, carried to the sewing shop. From there – to check: what if a link is missed? Stretchers must be as reliable as possible because they are designed to save lives.
YOU ANSWERED THE CALL
"On March 8, we started sewing such stretchers in an ordinary apartment," recalls the organizer of the Golden Hands of an Angel public movement Ludmila Sushetskaya. – We heard the call of the tactical doctor Yuri Yevitch to sew a stretcher for the evacuation of the wounded and got to work. It was based on the development of a tactical doctor with the call sign "Foma", which is why the stretcher is called that.
When they started work, they heard about the story of a mother whose son from the front asked to send a stretcher for their block, which took up little space, weighed almost nothing and could hold a good weight. They found her, and her son, it turns out, even sent her a rough diagram. And on it was drawn exactly what the "angels" had sewn. Thus, one of the first batches made by volunteers went to the Airborne Forces platoon.
Gradually, people settled. Rumors of women helping at the front spread on social media. Now the movement has groups on social networks, its own website and branches in 90 cities of Russia. And in the spring the land was full of rumours.
– First, mothers whose sons had gone to the front started coming to us. When you work and bring benefits, the level of anxiety decreases, – says the second head of the public movement "Golden Hands of an Angel" Natalia Prahova.

Natalia Prahova shows a new type of splint for the injured.
Photo: Mikhail FROLOV
JACK TO HELP
– Why am I here? Weird question. When a mother needs help, we don't ask why? We ask how we can help. I am the daughter of a military man, the widow of a military man, I can't do anything else, – admits Svetlana.
People come to the premises, which are provided to volunteers on a charitable basis in Rumyantsevo Business Park, when they have time. Some for an hour, some for the whole day. The work is simple, do it according to the scheme – and everything will work out. The longer you work, the faster the stretcher frame is assembled.
Recently, volunteers were presented with a round device that allows you to save space: do not put the lines on the table, but twist them, like a drum, gradually fasten them together.
– We have a wonderful family – Vera and Andrei. She sews very well and he invented such a machine to save space. He gave us one for testing, we called this machine Vera, – says Galina. "It's easy to work, you don't need to learn anything special.

Foma Tactical Stretcher.
Photo: Mikhail FROLOV
With sewing machines, of course, it is a little more difficult – after all, a certain skill is needed here. "Jack" (yes, that's the name written on the typewriter) does everything automatically, it remains only to direct the material correctly. "Roma", "Zhuzha", "Stepa" and "Tekla" (the names are drawn on typewriters by analogy with Jack) do the same job more slowly.
However, on average, in this office alone, volunteers sew 15-20 Foma tactical stretchers per day, and in total, about 21,000 such stretchers have already been delivered to the front by the Golden Hands of an Angel movement since spring.

This is how the frame of Foma's tactical stretcher is assembled.
Photo: Mikhail FROLOV
THE RANGE IS EXPANDING
It is clear that the needs of the front do not end only with the evacuation of the wounded. Therefore, the products that volunteers and their partner businesses produce are constantly changing, adapting to the needs of those who are now on the front line or going there in the near future. For example, now instead of bags (the set includes an evacuation sling to pull them, instructions for use and an icon), volunteers will make five-point bags (an analogue of a tourist seat made of foam, on which you can not only sit or lie down, but also use as a frame during casualty evacuation).

Five-pointed star.
Photo: Mikhail FROLOV

So the stretcher folds up so that they can then simply be taken out and stood up quickly.
Photo: Mikhail FROLOV
Also recently, a new modification of a light stretcher made of polypropylene appeared – they can be used as drags. And also new "Leningradets" tourniquets for stopping bleeding and splints for fixing damaged limbs (wider and with thick metal inside) – they will be able to "collect" and save even the crushed bones of a fighter. Volunteers are increasingly supported by industries: at the request of the front, many merchants are now ready to develop useful products and supply them at cost, and sometimes even for free.

A space-saving device by a volunteer, a woman processes the ends of the lines so they don't fray.
Photo: Mikhail FROLOV
– Everything we do, we coordinate with doctors tactics. After that, we send test batches forward and adjust them depending on the feedback received," says Nataliya Prahova. – That's why we changed the set of first-aid kits that we transfer to the front. First, the pouch is larger, velcroed, and easy to pull out in an emergency. Inside – a set for two wounds: this is justified, because often artillery injuries are combined, that is, damaged, say, an arm and a leg. So here are two sets of bandages, two pain relievers, already packed in the correct dosage, plus a tourniquet, a hemostat (blood stop), burn medicine, scissors to cut clothes if needed, and a marker to record the time when the tourniquet is placed.

Polypropylene stretcher.
Photo: Mikhail FROLOV

Five-point kit, stretcher, evacuation belt, instructions and icons.
Photo: Mikhail FROLOV
The price of such a first-aid kit has almost doubled since the spring, and it is becoming increasingly difficult to collect the "filling" for it: the necessary drugs are not always sold.
– We exist from donations, we make purchases centrally, then we transfer the necessary materials to the regions – explains Lyudmila Sushetskaya. – We receive many requests from mobilized and military personnel, but we are focused on helping those who are on the front line, we respond promptly to their requests. They need help here and now and our hearts go out to each and every one of them.

A first aid kit that is delivered up front.
Photo: Mikhail FROLOV
ONLY NUMBERS
90 cities have already joined the voluntary movement
600 tires of a new type made "Golden hands of an angel" for the wounded
Volunteers collected 1,000 first aid kits for the front.
Volunteers have delivered 23,000 tactical stretchers to the front since the beginning of their work
.