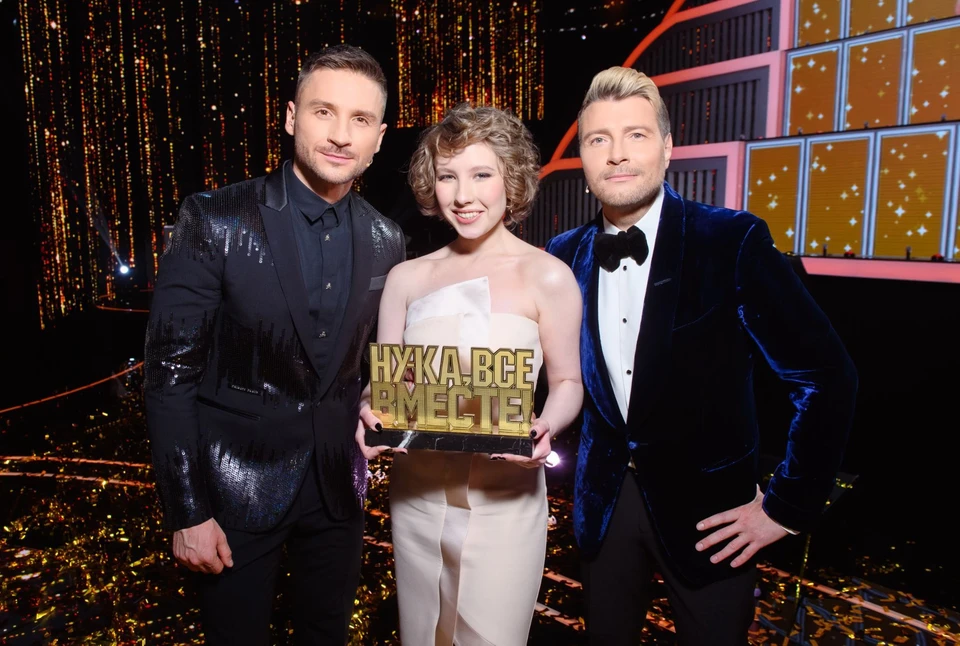 The winner of the TV show "Come on, everyone together!" Varvara Ubel with project leader Nikolay Baskov and head of the jury Sergey Lazarev. Photo – Channel "Russia"
The finale of the TV show "Come on, everyone together!" on the "Russia" channel. Vocalists competed all fall, and the strongest participants made it to the final. Their performances were judged by hundreds of jury members headed by singer Sergey Lazarev.
The prize in the vocal project is decent: in addition to the trophy of the show, the winner receives one million rubles, the rotation of his own single on the air of one of the music radio stations. In the fourth season "Come on, all together!" 21-year-old Varvara Ubel became the winner and owner of the main prize. Ubel tried not to be nervous and joked: "In the semi-finals, my last nerve cell had already left the chat …" Varvara managed to put the accents correctly: "My strong point is how I perform jazz music and in artistry, in musicality." Ubel demonstrated all this – and became the best. Varvara set herself up correctly for the final – she did not think about the competition, but simply sang and listened to a live concert from other participants.

Sergey Lazarev highly appreciated Varvara's vocal abilities. By the way, the dress for the presentation of the girl was sewn by her mother. Photo – Channel "Russia"
Varvara is very sincere, friendly: "I think that the thought of winning would only prevent me from performing well. I'm sure: any of the finalists can become a winner, it's just a matter of coincidence and luck.
Ubel could have been thrown out of the transfer: in the semi-finals, she did not enter the top three. Then Sergey Lazarev was outraged by Ubel's low ratings: "It was beautifully sung, clean and artistic. what are you missing?" However, the host Nikolay Baskov arranged a battle between the 4th and 5th places for an extra place in the final. As a result, they sang so well that they led both Varvara Ubel and the Bojgua family to the final.
And Varvara Ubel did not disappoint us – a girl from Novosibirsk became the winner of the fourth season of the popular TV show. The head of the jury Sergey Lazarev did not hold back his emotions: "It was the strongest season!" Now Varvara Ubel lives in St. Petersburg, is engaged in a solo career, and also plays with her brother in the duet UBEL – in November they have a concert in Moscow and presenting his debut album.
.