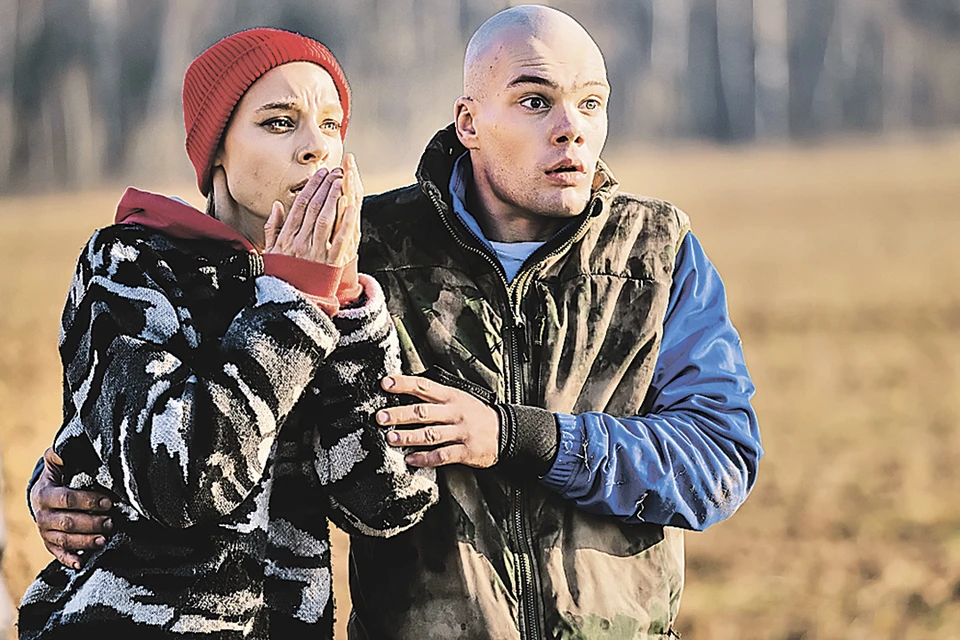 The husbands (Alena Mihailova and Petar Skvortsov) did not want to, but became killers, which is why they themselves are horrified: they do not want to kill the heroine of Regina Todorenko. Photo: KION
"Alice can't wait"

Elizaveta Ishchenko did an excellent job with the main role. Photo: Start
Drama
Where to watch: Start.
Another story of painful growth from the master of this theme – the director Nataliya Meshchaninova ("My Mother's Penguins"), this time with a tragic note. 15-year-old Alyssa, who has been seeing an ophthalmologist since infancy, learns that she will soon go blind. And she decides that the time she remains sighted should be spent to the fullest. The girl wins results in school and prepares to sell her virginity at a high price to go to hell with the proceeds. The mother hid her diagnosis from her daughter and did not suspect that she already knew.
In a cautionary tale about a destructive lie, Alice's misfortune becomes a metaphor for the blindness of adults: they would rather suffer than simply face the truth. Anna Mikhalkova, Taisia ​​Vilkova, Stepan Devonin and 16-year-old actress Elizaveta Ishchenko participated in the series, which promises to become one of the main events of the season.
"Secrets of Family Life-2"

Regina Todorenko. Photo: KION
Black comedy
Where to watch: KION.
The title is not for nothing reminiscent of Ingmar Bergman's film Scenes from a Married Life. A reckless comedy with Alena Mihailova and Petar Skvortsov is also about a crisis in relationships, only a very young couple. Remember that in the first season, their heroes Polina and Nikita – creators of a PR agency – accidentally embarked on the crooked path of crime: the wife drilled an unpleasant diva on Instagram to death with a drill, and her husband helped her hide the corpse. The couple falls into the hands of the evil investigator Roman (Fyodor Lavrov), who forces them to continue killing star bloggers. In the new series, Roman tells them to kill Internet star Kira Crouch (Regina Todorenko), but Polina and Nikita try to jump.
Do not think to perceive "Secrets …" as a realistic story: all the blood here is cranberry juice, and everything that happens is more like a phantasmagoric dream of spouses entangled in relationships.
"Aurora"

Lena Tronina is the powerhouse of the new Russian series. Photo: More.tv
Black comedy
Where to watch: More.tv.
The series is not to be missed for at least two reasons. First, Lena Tronina, who last year played an excellent role in the series Happy End, starred in the main role. And this year, the thriller "Identification" was released, after which it became clear that Tronina is not just a good, but an outstanding actress, of which we do not have many. Secondly, "Aurora" was staged by Roman Volobuev, a former brilliant film critic, who took up directing and shot not only the mediocre craft "Imagine What We Know", but also the extraordinary epic "The Last Minister".
The heroine of "Aurora" is the psychologist Sasha at the suicide prevention center. She herself has depression, which is why she drinks a lot. At the age of 10, Sasha starred in films and briefly became a star. But there were no more roles. After celebrating her 25th birthday with a wild drunkenness, Sasha discovers that she has no memory of the past four weeks at all. In her thoughts, she plunges into the past and realizes with horror that everything is worse than she thought.
.