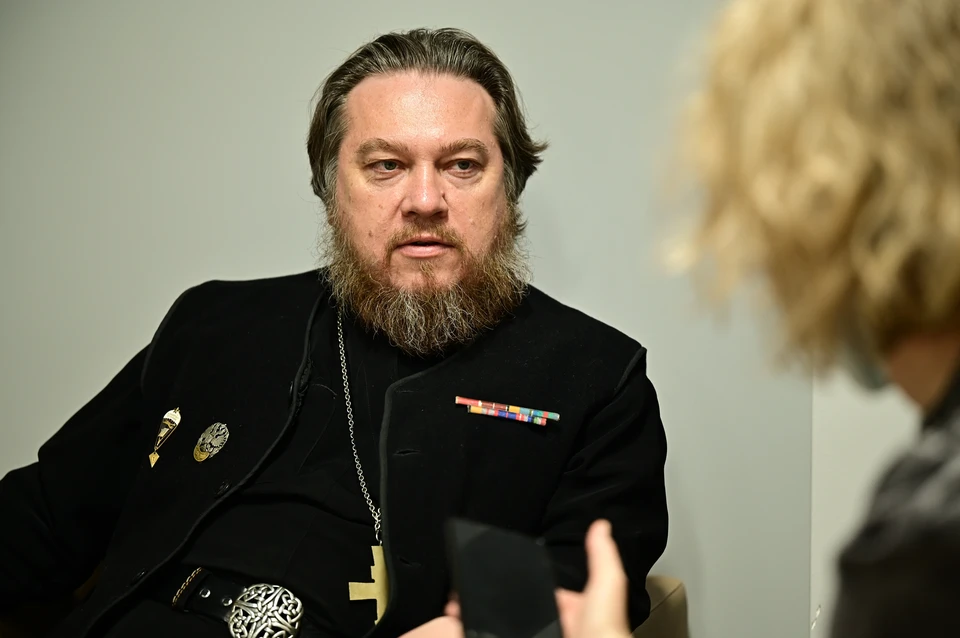 Archpriest Mikhail Vasiliev.
Photo: Julia NESTRUEVA
"For courage and heroism shown in the performance of civic duty, to award the title of Hero of the Russian Federation to archpriest, cleric of the Moscow Diocese Mikhail Vladimirovich Vasilev (posthumously)," the presidential decree says.
The priest was the supervisor of the Patriarchal Court at the Headquarters of the Russian Armed Forces and adviser to the chairman of the Synodal Department of the Moscow Patriarchate on interaction with the armed forces and law enforcement agencies.
Only a month ago, Vasiliev spoke in an interview about his work at the front.
– When we were covered with MLRS, I confessed to a Buryat man and he told me something, and the other was an Old Believer. And here were two soldiers, the ground was shaking, literally, sticks, lumps of earth flew towards us, and the three of us grabbed each other, and I was the first to confess my sins, and they picked him up, because we decided – this is it, this is death! Because she is like Katyusha, only bigger and scarier. And you do not understand when death will come, but you understand that it is very close. The three of us hugged each other and said goodbye to life, and we confessed. At this point it is very easy to admit, the important thing is that there is someone. This person from Buryatia, of course, was not baptized, but at that moment he was the only person, and also an Old Believer. All three of us admitted, it was very scary! – recalls the priest.
Mikhail Vasiliev graduated from the Philosophical Faculty of Moscow State University in 1993. As a military chaplain, he visited Chechnya, Kosovo, Syria, Abkhazia, Kyrgyzstan.
The Star of the Hero is not the first distinction of a cleric. In 2004, he was awarded the Order "For Merit to the Fatherland", second degree. In 2007, he was awarded the Order of Bravery.
READ ALSO
"He was always ready to sacrifice himself": "Father of the Airborne Forces" Father Mikhail Vasiliev died on the front near Kherson
Priest Andrey Spiridonov speaks about the "priest from the Airborne Forces" who died near Kherson (more information)
.