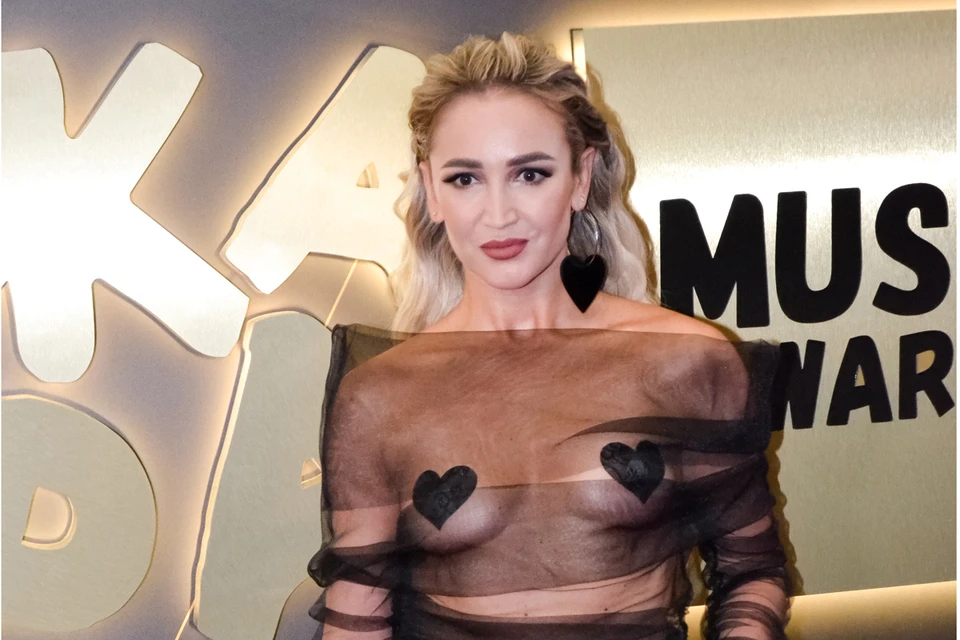 Olga Buzova.
Photo: Mikhail FROLOV
Last evening, the entire color of show business gathered at the Kremlin Palace for a concert on the occasion of the 26th anniversary of the MUZ-TV channel. Philip Kirkorov, Polina Gagarina, Mikhail Galustyan, Lera Kudryavtseva and other stars took the stage. One of the participants in the concert was Olga Buzova. The singer stepped out in a scarlet tulle dress with a plunging neckline and a long train.

Olga Buzova came to the MUZ-TV show in a dress from the Giambattista Valli & H&M collection. Photo: social networks.
Olga proudly poses on the red carpet, showing photographers slender legs and sexy cleavage. The singer looked charming, but even people who are not very immersed in the subtleties of fashion could notice that Olya chose a dress for the concert, which was far from new. The scarlet outfit in the spring of 2019 was sold in the chain of democratic stores H&M. Then an inexpensive Swedish brand released a collection of dresses in collaboration with the Italian fashion house Giambattista Valli.

The dress is beautiful, but not new. Photo: social networks.
Then the outfit cost 399 euros (25 thousand rubles at the current exchange rate). However, since a lot of time has passed since then, this dress could recently be bought quite cheaply off-hand. In Avito ads in Moscow it was offered for only 7000 – 9000 rubles.

Vera Brezhneva was the first to try this outfit in 2019. Photo: social networks.
In 2019, Vera Brezhneva was the first to try it. After that, the singer became the "face" of the Giambattista Valli brand, she was even invited to Italy for a fashion show of the Giambattista Valli & H&M collection.
Then Dima Bilan's producer, Yana Rudkovskaya, was exposed to this dress. Evgeni Plushenko's wife appeared in it at once at several parties in Moscow.

Three years ago, Yana Rudkovskaya also boasted about him.
Photo: Larisa KUDRYAVTSEVA/EG
However, Olga is easy to understand: the dress, although not new, is very beautiful. In addition, the motto "old things – new life" is one of the principles of reasonable consumption. And really, why buy an outfit from a new collection for big bucks when you can look chic in a cheap vintage dress?
Olga Buzova has repeatedly emphasized that she does not have a stylist and chooses all the outfits for concerts and outings herself. For which they constantly criticize her – they say, the images of the TV presenter often betray bad taste. Somehow, fans of the singing TV presenter discovered that she came to the Evening Urgant show in a dress bought on the Chinese marketplace AliExpress for only a thousand rubles.
.