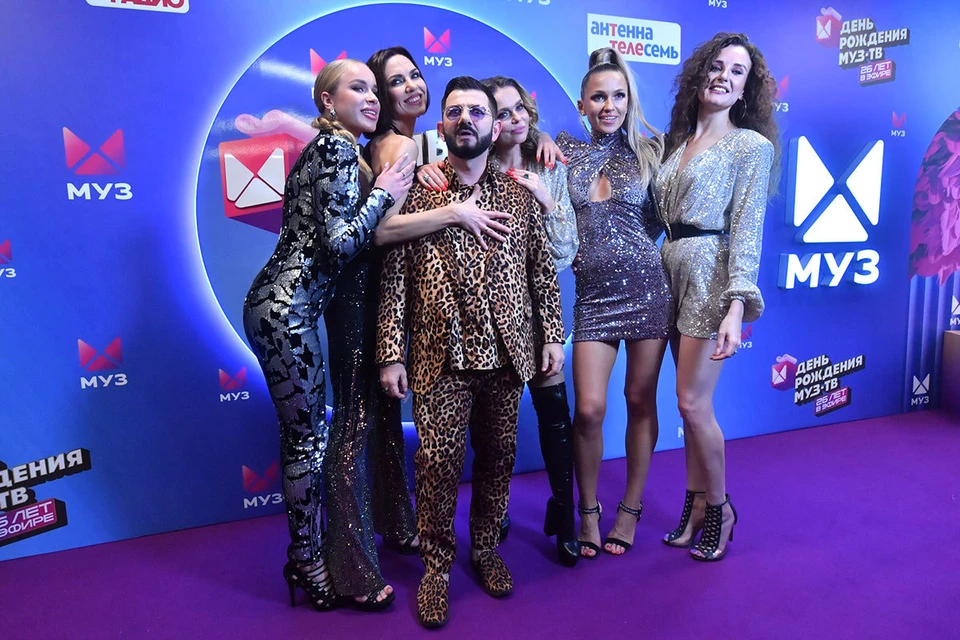 Mikhail Galustyan and the group "Brilliant"
Photo: Vladimir VELENGURIN
Rhinestones and feathers, ruffles and latex, spikes and chains once again stormed the Kremlin. At the concert in honor of the birthday of the MUZ-TV channel, show business again brought out all the best at once. And in this race of wealth with style, someone, as always, someone lost. The winners and outsiders on the red carpet were selected by the KP.RU website together with stylist Ruslan Gromov: it was he who commented on the images of celebrities at the music party.

Stylist Ruslan Gromov
Photo: Personal archive
LARIS VALLEY

Larisa Dolina
Photo: Vladimir VELENGURIN
– A dress-jacket from a Russian designer is a worthy choice. I especially appreciated the long sleeve, covered neckline and midi length instead of mini or micro. Larisa Aleksandrovna seems to tell us: "Hey, I'm still in the line and I have something to show." But don't show it publicly! Boots with a sharp nose are still in trend and harmoniously, without unnecessary vulgarity, complete the image. Everything is moderate here, and in the uncovered parts of the body, which, I want to note, are not so many, there is more sexuality than in the "naked" dresses that our show business loves so much. The pins on the jacket for me personally are a good sign: the Valley is "in the eyes" and provocative outfits in crystals with extreme cutouts are no longer for her.
OLGA BUZOVA

Olga Buzova
Photo: Vladimir VELENGURIN
– It seems to me that the stylist Buzova will not rest until she runs out of all the tulle in our vast country. Olga has already appeared in public in similar dresses more than once, and in fact only the color changes. For example, in a similar outfit, Buzova appears in an advertisement for a store whose discount card every pensioner has. But the birthday of MUZ-TV is an ideal platform for walking in unusual outfits: you can add creativity, especially since the singing presenter proclaimed herself the main trendsetter (style icon. – Ed.) of Russia. Also, remember that the devil is in the details. For example, like sandals (from the words "bare foot"!) Combined with tights: this has always been considered a bad tone. Makeup and hair are good, nothing to complain about. Of the accessories, I would leave only earrings: they are quite catchy and do not need to be added.
ZARA

Zara
Photo: Vladimir VELENGURIN
– The dress itself is beautiful and requires more complex poses: "hands to hips" look quite stereotypical. I believe that for Zara herself, walking in such an open outfit is a novelty: in general, her images are close to oriental aesthetics, and the artist's bare thighs are rarely seen. While I'm a fan of more subdued outfits, this look is good from the right angle and the outfit is red carpet competitive.
POLINA GAGARINA

Polina Gagarina
Photo: Vladimir VELENGURIN
– The camouflage mini dress fits perfectly on the flawless figure of the singer and leaves no chance of getting lost on the red carpet. Camouflage has not lost its relevance for many years: from year to year, with its help, fashion designers give women even more sexuality, militancy and partly brutality. The neck choker harmoniously reflects the color of the outfit. But the growing obsession of the brand can be judged by the artist's feet, although Opyum sandals worth 120 thousand rubles from Yves Saint Laurent gracefully complement Gagarina's image. The singer's bracelets cost great money: such sums are usually pronounced in the ear.
PHILIP KIRKOROV

Philip Kirkorov
Photo: Vladimir VELENGURIN
– On the sidelines, they say that Kirkorov has changed his stylist, and if so, then I liked the work more than the past. Here again, dazzling "take out your eyes" outfits were used, so even through the screen it was clear: Philip has everything expensive and rich. Still, there is much to praise. Flared pants are becoming extremely popular again: so far, for the most part, in the luxury segment, but I think that very soon the mass market stores will also be full of fashionable novelties. This is just Philip, in my opinion, this model does not decorate, rather, on the contrary: he became like a wolf from "Well, wait!". The studded jacket does not look like a million dollars in vain – I think it is worth no less. Silver slippers, although combined with a jacket, are still more of a grandmother's slippers.
ANNA ASTI

Anna Asti
Photo: Vladimir VELENGURIN
– It seems to me only that Latex will soon grow into the former soloist of Artik & Asti? From run to run, nothing changes except maybe the accessories. Although it is fair to say that the belt with stones fits perfectly into the main image, and high gloves are combined with woven boots. Overall the outfit is stylish but I would like to see more variety from Anna.
LUCIA CEBOTINA

Lucy Chebotina
Photo: Vladimir VELENGURIN
– I'm always in favor of something being organic with the character. There should be some kind of symbiosis, all the puzzles should be formed in one picture. Alas, this feeling is absent in Lucy's "arc": the case when you want to surprise and impress everyone, but it turns out only to make you laugh. The principle "you can never have too many feathers" works in one case out of 100. Dear artists, I urge you to learn from the bitter experience of your colleagues and think a million times before putting a bag of feathers. Another mistake – with the shoes. The sandals are classic, but Luce is clearly out of size: her ankle is pulled, it feels like her feet are swollen.
MIKHAIL GALUSTIAN AND THE TOWN OF "BRILLYANTNO"
– Did I miss something, or did they start celebrating the New Year early? Why so many kookers in one picture? Leopard and sequins in such quantities are dangerous to health, it is bad taste on the verge of madness. Among all the people, Nadia Ruchka (second from the left. – Ed.), who suddenly joined this bacchanalia, is surprising. Periodically I look at Nadia and see a stylish, adequate person. Maybe the bad taste is airborne? I can only understand Galustyan: he is associated with humor and most likely jokes in show business.
LERA KUDRYAVTSEVA AND DAVA

Lera Kudryavtseva and Dava
Photo: Vladimir VELENGURIN
– After the "Brilliant" band, everyone will seem like a style icon to me. In general, the image of Lera is not without interest. I like the white shirt in combination with suspenders – looks good a priori. A fluffy satin skirt with an accent on the waist gives a certain exclusivity. I have known this technique for a long time, but I have not often noticed such an image being exploited. One note: for more elegance, I would advise the TV presenter to use fewer accessories.
As for Dava, popularly known as "Olga Buzova's ex-boyfriend", oversized is of course in trend and there is no volume limit. But I'm sure it's not his best image. You need to be able to wear style and competently present it to the public, and if you don't feel it, you will look like a random character at a general celebration of life.
.