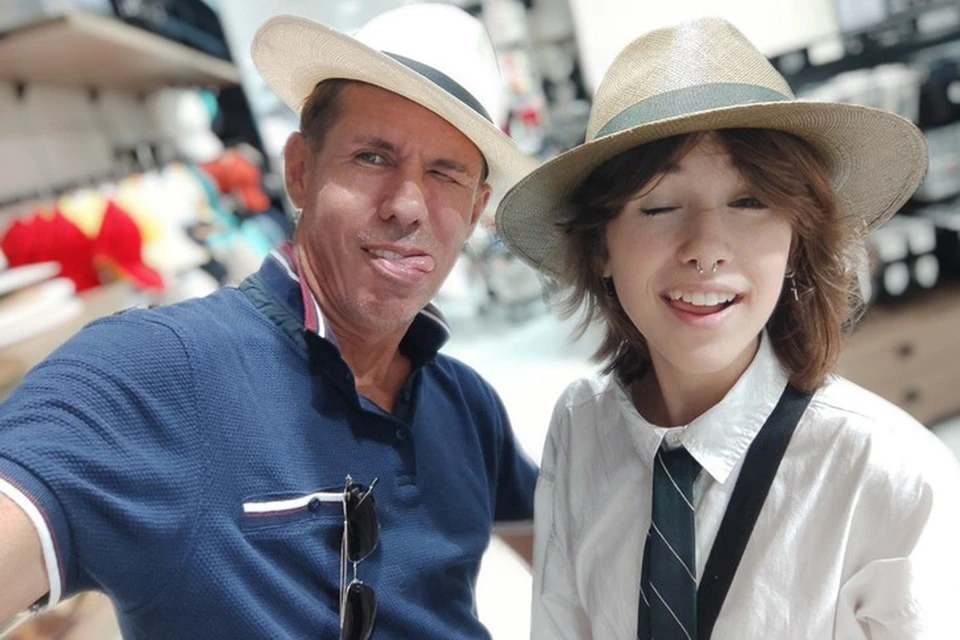 Alexei Panin with his daughter Anna. Photo: social networks.
Alexey Panin moved to Spain two years ago. The actor bought an apartment in the resort town of Torrevieja for 70 thousand euros (4 million 200 thousand rubles). The artist took his daughter Anna with him abroad. Immediately after the transfer, the star of Zhmurok said that in Europe his successor will have much more prospects than at home.
"Let her earn as a waitress from the age of 16, let her make her way, but only so that she is not surrounded by Russian people," Panin said.
The actor himself, after his loud statements, lost photos and contracts in Russia and was left without income. To help her father, 15-year-old Anna did get a job at a local restaurant and worked as a waitress. But the girl dreams of something completely different: she wants to follow in her father's footsteps and become an actress. Anna grew up as a real beauty, with her appearance and big name, she probably would have already starred in Russian cinema. Instead, Panin's heiress is soaking in the Spanish wasteland, where she doesn't even have the opportunity to take acting classes.
Today, Panin admits: if she and her daughter had stayed in Russia, her dream would have already come true. The actor is sure that in Moscow Anna will easily enter an acting school.
– She wants to be an actress. And if we had stayed in Russia, then she would have already had a comfortable place in Shchukin's theater school, "said Panin in an interview on the YouTube channel Real Estate in Spain with Alegria.
The actor admits that after noisy Moscow in small Torrevieja, Anna is frankly bored. In addition, here she will not be able to realize her dream. At first, the girl missed Russia, but six months later she got used to it. In Torrevieja she made friends, met a man. Anna studies at a Spanish school, but will soon graduate. Panin's daughter would like to go to a big city and try to break into the cinema there.
– It's tight, she needs a metropolis, she needs Madrid. There really isn't much to do here. She would like to go to the acting studio, she would be engaged in dancing, but this is not here, "said Alexey.

The girl lives in Spain with her father. Photo: social networks.
The star of Zhmurok figured out how to provide for his daughter. Panin put his apartment in Moscow up for sale in order to buy a home for Anna in Valencia. After his mother's death, he inherited a kopeck in the capital's Konkovo ​​district. But the artist's apartment is not in demand – he cannot find buyers for it.
– I want to sell an apartment in Moscow and buy an apartment for my daughter in Valencia. But it's still not working, the 45-year-old artist admitted.
Panin himself does not have an acting career in Spain: for this you need to know Spanish well. So Alexei came up with another plan: to try his luck in Hollywood. To do this, he took a tourist visa and went to the United States. Now Panin is trying to find a job in the States.
– A huge number of films are shot in America, a very large production. I can play some Russians, Ukrainians, Poles, people from Eastern Europe. The main thing is to have an agent, he says.
For now, these are just predictions. Panin won't be moving to the US anytime soon. He wants his daughter to finish school in Spain.
"I have a daughter here, she has to finish school, go to high school. For now, there is no talk of dumping in America. I have a tourist visa, I don't have a work visa," the actor clarified.
In Spain, Panin received a residence permit as a real estate owner, also without the right to work. The actor must renew the residency every two years.
.