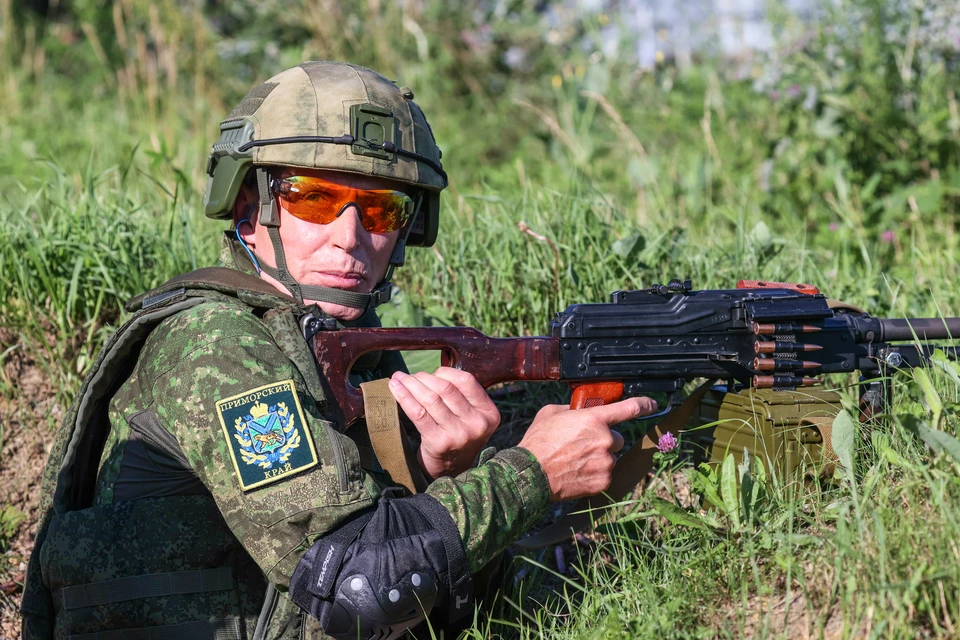 Vladivostok. The Governor of Primorsky Krai Oleg Kozhemyako during the training of the volunteer unit "Tiger" at the training ground of the Gornostay Marine Corps, August 2022. Photo: Yury Smitiuk/TASS
At midday on Monday, November 7, a number of Russian bloggers reported "large useless losses of men and equipment" in the Pacific Fleet's (PTF) 155th Marine Brigade. On the same day, an "address" appeared on social networks – with approximately the same content – allegedly on behalf of the marines themselves – addressed to the Primorsky Governor Oleg Kozhemyako.
Immediately – involuntarily – the question arose: why the marines, who have a direct relationship with the governor (so as not to weaken, Kozhemiako himself regularly visits the zone of hostilities, with his compatriots, in addition, he has his own channel on Telegram, with which one can contact anyone, not to mention the traditional connection – phone) – suddenly decided to contact the head of the region, use the services of a social network?
I called Oleg Kozhemyako…
Below – verbatim – his direct speech.
– … Oleg Nikolaevich, how do you feel about the information that many of your compatriots are dying at the front?
… – There is really a heavy offensive there. There are losses.
We are deeply concerned about this.
And now, together with the military prosecutor's office, together with the command (of the Pacific Fleet. – A.G.) we are checking all the facts in order to know the real number of dead and wounded.
But based on the information available to the military today, of course, all of these losses are greatly exaggerated.
But this is preliminary data.
We are dealing with this issue.
… For eight months our brigade fought bravely. And the situation was much … more severe, but there were never such reports.
This should be considered very carefully. Now there are many different propaganda stories from the enemy. Therefore, everything must be weighed.
That there is an offensive, that there are losses, yes. But there, all these figures today, according to the command, are too exaggerated. Based on this, in the near future we will find out step by step for each battalion what, where, how, how many people are located where. To find and provide the necessary assistance, including to the injured in hospitals, the families of the victims.
This is our task, which we will solve here on the spot. (Speech for Primorsky Krai. – AG)
– You have a very close relationship with your boys. You also took part in their preparation, you followed this. And they themselves went there – to the place of hostilities. Directly your own fighters, Pacific, what do they say? Did you contact them by phone?
– Of course. And I contacted today and they will probably already be responding during the inspections – both the brigade command and representatives of the Marine Corps. Now you just have to understand that there is a war going on and it's hard to get in touch.
But this stuffing of information that must be objectively verified, of course, it does not work either for the 155th brigade or for the Armed Forces as a whole, it falls negatively …
This is a very serious matter for us. Because they are our compatriots. And we sincerely worry about each of them. I know a lot by sight.
– Do you know who this information comes from? Is this from your marines or not from yours?
– Now we'll find out. What where and how. I think we will find out everything in the near future.
– And here are your boys, with whom you have contacted, what do they say? Does this look like the truth or not?
– They are fighting. They do not have the ability to cope with these moments …
Now, yes, they say the battles are hard, they come hard. There are losses. But the figures for the losses that are being indicated now, as the commanders tell us, they are exaggerated.
– Very exaggerated?
– To be honest, I would not like to comment until this whole situation, all these very subtle things are finally dismantled, here behind every phrase there could be someone's life…
– You are obviously aware of these figures that the victims are inflated 7 times, etc. And the wounded have already returned to duty. This was announced by the Ministry of Defense.
– I know that many of the wounded are returning to service, the slightly wounded. This is a large percentage of returnees. But – I repeat – everything must be arranged, including the military prosecution authorities, the command. We are now dealing with this issue. To have objective information.
So far we can't even find that source to find out from him in more detail what information he was referring to.
– Thanks.
– We protect the system, the boys are in place. They carry out their tasks bravely, selflessly. And we, for our part, will do everything to help them with equipment, equipment, to help their families. If we do it competently and wisely, then Victory will be ours.
.