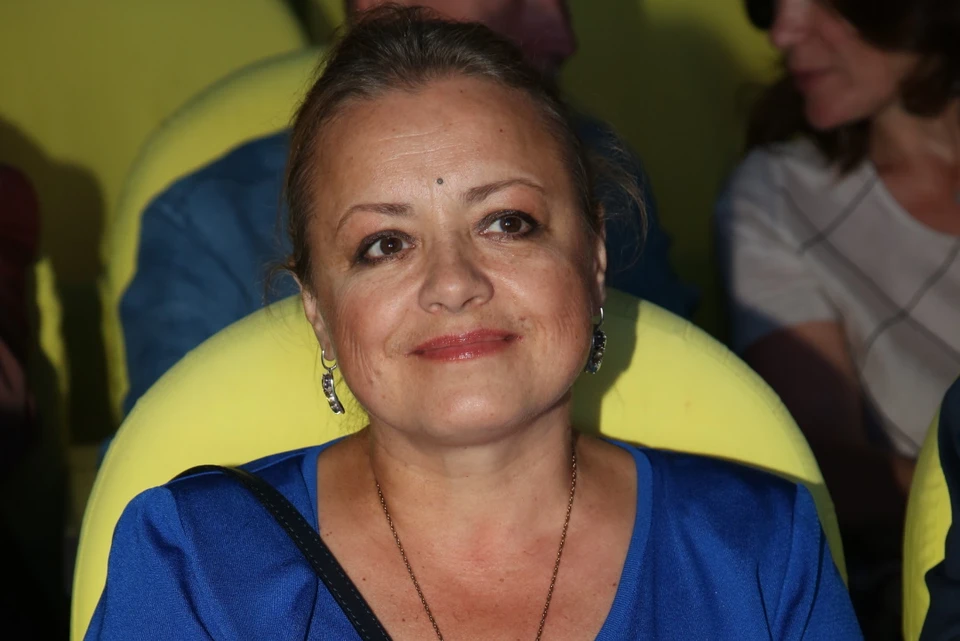 Elena Ciplakova's credo – never give in to discouragement
Photo: Boris KUDRYAVOV
Elena Tsyplakova was born on November 13, 1958 in Leningrad in a family of graphic artists. Her father Oktyabr Ivanovich (an unusual name given in honor of the Great October Revolution) was one of the best industrial artists in Leningrad. At the age of eighteen, he went to the front. And he came back from the war crippled, shot through the legs and lungs. Over time, this provoked an open form of tuberculosis with pulmonary hemorrhage.
Due to her father's illness, Lena was sent to a recreational boarding school, where she first encountered rudeness: for "educational" purposes, children were placed barefoot on the toilet floor. These executions affected her health in the future.
FIRST ROLE "BY BLUT"
She got her first role thanks to her father's friend, graphic artist Nikolay Yudin, whose wife was Dinara Asanova, a beginner at the time. Dinara invited the beautiful fifteen-year-old Lenochka to her debut film "The Woodpecker Has No Headache". And immediately to the main role. Thus, Tsyplakova first appeared on the screen. The film was released in 1974, Tsyplakova played the beauty of seventh-grader Ira Fedorova. After that, proposals from directors rained down on her. By the end of school, she starred in 5 films, and this determined the choice of profession.

Debut role in the film "The Woodpecker Has No Headache".
HUNDREDS OF HOUSEHOLDERS ACROSS THE COUNTRY
After school, Lena left Leningrad for Moscow to enter theater universities. She was accepted to GITIS in the acting department. She almost immediately refused the help of her parents, securing pictures in films, because of which the usual difficulties arose when students of theatrical universities were forbidden to act. She had to transfer from GITIS to VGIK after passing fourteen exams as an external student at once.
The real recognition and popular love for her came after the release of the teenage melodrama "School Waltz", where Tsyplakova played the main character Zosya Knushevitskaya. According to the plot, Zosya falls in love with a classmate, gets pregnant and gives birth to a child before graduation. Because of this "immoral" plot, the picture was on the shelf for a long time. The film authorities of the time showed it at the teachers' convention. Teachers called "School Waltz" a harmful film. Oddly enough, the Komsomol helped bring it to the big screen, which convinced that the film was useful precisely for educational purposes. Whole classes were taken out to watch "The School Waltz" and had a discussion afterwards.

With Sergey Nasibov in the melodrama School Waltz.
Ciplakova received hundreds of letters from grateful girls for being an example. "Many girls who are pregnant look at the picture and decide to give birth. Straight up: I have hundreds (maybe thousands) of godparents all over the country, "Elena admitted to KP.
A young, charming actress with a perfect face became a sex symbol in the 70s and 80s. Her mole above her left lip drove men crazy. When she starred in the musical film "D'Artagnan and the Three Musketeers", the audience was outraged that she was not given the role of Constance (she played Mistress Cathy's servant).

As Cathy from the movie "D'Artagnan and the Three Musketeers".
CONSEQUENCES OF MALARIA
Tsyplakova participates in 3-4 films a year. And it seemed that this would continue, but the beautiful actress seemed to have been deceived.
After an unsuccessful operation and taking hormonal drugs, Elena recovered significantly. This was followed by a trip to Africa for a week of Soviet cinema, where she contracted malaria. And again – hormonal treatment, which led to even more weight gain – up to 112 kg. I had to end a successful acting career.
Ciplakova changed her lifestyle, began spiritual practices, and as a result was cured of her illnesses. In an interview, she said that her spiritual father read a prayer over the water. And she drank of the prayer water and grew thin, thin. In three months – 25 kilograms without diets and gymnastics.
But she never returned to her former ideal forms, but realized herself as a director. He starred in several films: "The Fugitive Citizen", "Reed Paradise", "I Believe in You", TV series. "I shot two serials in a row. One – 266 episodes, the other – 288. It took two years and ten months for everything, "said Tsyplakova. Overstressed.
After filming "Carmelita" she literally fell ill. He had serious problems with his legs, with the peripheral nervous system. She was literally carried in her arms by her third husband Pavel.

Elena found true happiness in her marriage with her third husband Pavel. On the left is his daughter Julia.
FIND FAMILY HAPPINESS AT 50
Tsyplakova was married three times. The first marriage was fleeting. There are rumors about her romantic relationship with her colleague from the Mali Theater Vitaly Solomin, whom she met on the set of "School Waltz". In the film, he played her father. And in life, Solomin was married, an adored daughter grew up in his family, and besides, he was 17 years older than Tsyplakova. But there is such an abyss of charm in him that one cannot resist. Their romance developed almost like in "Winter Cherry", where Solomin's character rushes between his wife and his lover. He promises his mistress to leave the family, asks to wait a little, but still does not leave. And so for several years. They say that Tsyplakova gave him an order when she found out that Vitaly Metodievich's wife was expecting a second child.
In 1984, Elena married a successful dentist, Sergey Lipets. She lived with him for thirteen years and seemed happy. But that marriage also fell apart. Accidentally met her current husband on the street when her car wouldn't start. She came to the aid of Pavel Shcherbakov, who helped repair the car. They exchanged phones and started talking. She married Pavel at the age of 48. And this third marriage was a happy one.
Elena Ciplakova's credo is to never give in to discouragement. Always enjoy life: in every situation you can find the positive. This helps to overcome the difficulties that were many in the life of a charming talented actress.
.