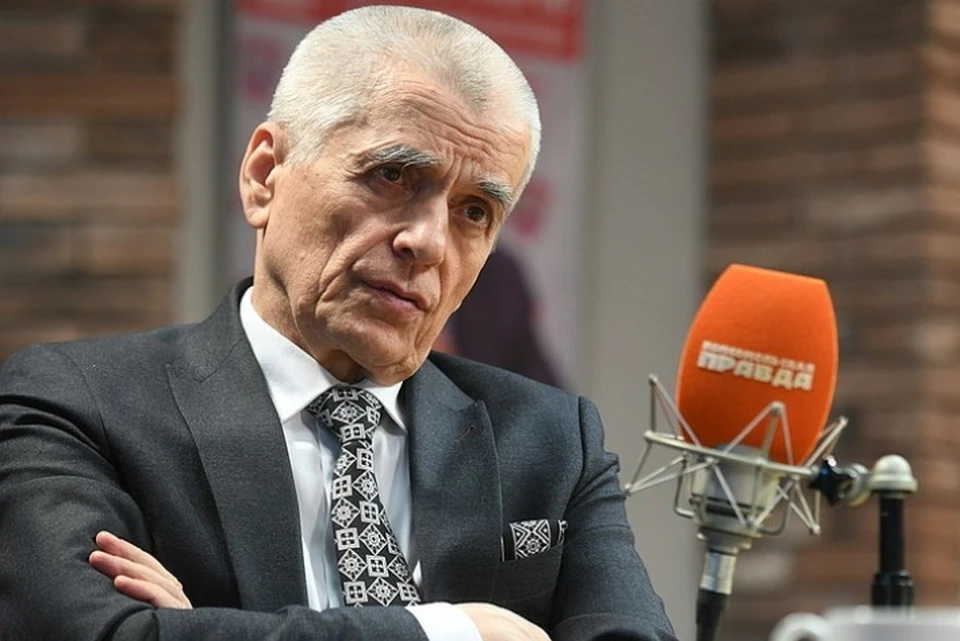 Academician of the Russian Academy of Sciences, former chief state sanitary doctor of Russia Gennady Onishchenko
Photo: Mikhail FROLOV
… – Gennady Grigorievich, alarming information came last night: "Humanity is at risk of death due to the emergence of a coronavirus with a mortality rate of 90%." This was said by the president of the National Research Center "Kurchatov Institute" Mikhail Kolvachuk. He refers to the developments of American scientists, whose laboratories are located around Russia, actually encircling our country. That is, this is the topic that we have discussed more than once.
– yes We talked about the high mortality of Omicron, which was created at the Boston Institute, and artificially so.
With the help of biotechnological manipulations, a plasmid was planted in Omicron, which is responsible for virulence.
– Decipher, please, what kind of plasmid, what kind of virulence is it?
– Let me finish it and then I will decipher it. In the original strain of coronavirus that emerged in 2019, mortality among laboratory mice reached 80%.
That is, the work on this topic in the USA is carried out, even by civil institutions.
Which once again confirms that the issue of the development of active offensive military programs in the USA is not closed.
– Our actions? That is, Russia.
– Wait a minute…
If you remember, the most virulent was MERS, the Middle East Respiratory Syndrome, which appeared in 2009 and there the death rate reached 60%.
But if such a virus appears, then it will already be possible to unequivocally assume that it is of artificial origin.
So, in answer to your question… I think that at the 9th review conference of the BTWC (Biological and Toxin Weapons Convention) planned for later this month in Geneva, our delegation will also raise this issue.
And let's hope that after all our American – now former partners (since they call us enemies, we have no right to call them friends) will still share a reasonable position.
As, however, with regard to those matters which relate to laboratories based in Ukraine, Kazakhstan, Georgia, Azerbaijan, etc.
Because even nature has not yet reached such a mortality rate.
– And as for the 90% death rate…
– Fortunately, for now, this is a version (not a finding) that was expressed by one of our respected academics.
And I remind you that the same Omicron we encountered is not so harmless.
In front of me are the data on morbidity at 5 am Moscow time:
in the past 24 hours, 502,838 people have fallen ill in the world, and 2,705 have died. These are not such small numbers that give us reason to be calm.
– But in Russia?
– Well, in Russia, thank God, while there are no such figures, the incidence is maintained at subthreshold levels. But that means absolutely nothing. Because when you ask the question "How is it in Russia?", you have to measure it with how it is in the world.
Because even if we are safe today and there are complications in the world, it will come to us immediately.
We are here, as they say, at the limits of the situation we will not last. This is the contagion for which there are no borders. It will be quite correct if we talk about the general situation of the planet.
– You wanted to decipher the plasmid. And – virulence too.
– This is the part of the genome sequence of the coronavirus that is responsible for the virulence, that is, the danger of this disease. Then they (American scientists. – A.G.), in other words, sewed an ordinary, ordinary "Omicron", added a new insert there, and the laboratory mice showed such a threatening level of mortality.
That is, out of 100 mice there, 80 died.
Therefore, of course, let's hope that the strain that was created by American scientists will not become proprietary and will not be released, so to speak, into the epidemiological space.
It also requires a lot of hard work.
– So the deadly strain is capable of releasing itself?
– Well, maybe some accident. Or – the one who created it will get infected himself or even infect others. And then you won't be able to sustain that tension.
Well, and, of course, we must not forget that vaccinations are needed – vaccination, revaccination.
The pandemic is not over, and this kind of disturbing speculation is not unfounded.
– Thank you very much, Gennady Grigorievich.
– Please. Take care and get vaccinated, please, Alexander.
– We already…
– You have been vaccinated against influenza. And I'm talking about Omicron. These are slightly different things.
– And from "Omicron" I took root two months ago.
– Then you are a role model.
– I follow all your instructions! Thank you very much, comrade academician.
.