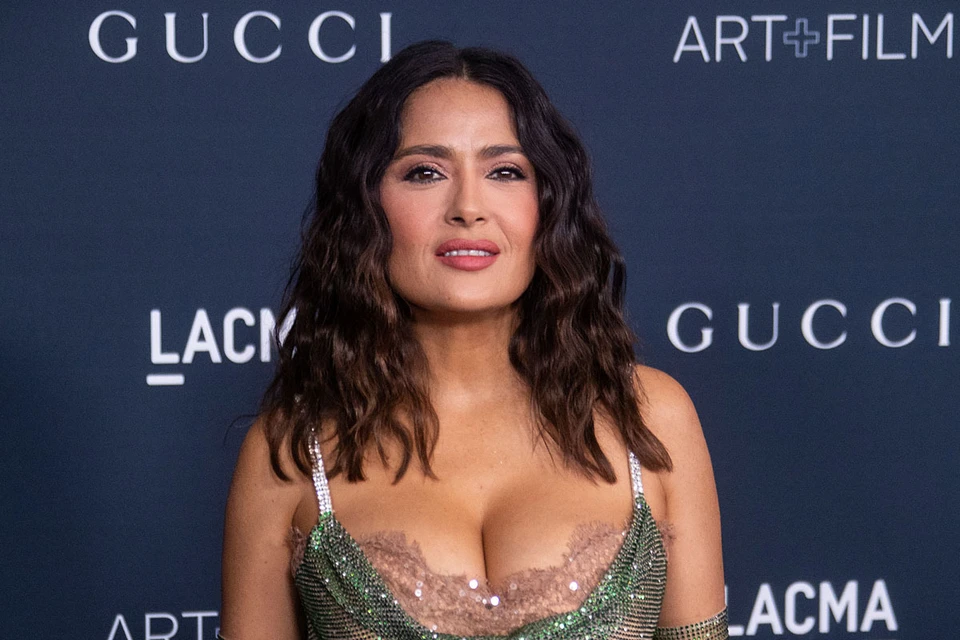 Salma Hayek.
Photo: GLOBAL LOOK PRESS
Salma Hayek became one of the brightest stars at the LACMA Art+Film Gala 2022. The Hollywood actress attended the gala evening in Los Angeles with her husband, French billionaire Francois-Henri Pinault. The actress hit the red carpet in a sparkling gown with a plunging neckline that highlighted her ample bust. The see-through material of the outfit made it clear that the actress had no underwear underneath.
Salma completed the look with long gloves to match the dress and chunky bracelets. Her husband could not take his eyes off his beautiful companion. Salma was truly a wonder how good she was. It's hard to believe that the Mexican diva has already celebrated her 56th birthday: she looks much younger than her passport age.

The luscious cleavage of the actress attracted everyone's attention.
Photo: GLOBAL LOOK PRESS
Salma's career is on the rise like never before. He is currently working on Puss in Boots: The Last Wish and Magic Mike's Last Dance. In the personal life of the star, everything is also fine. The artist's husband is one of the richest people in France. The family of the 59-year-old Pinot owns an entire fashion empire – it includes, in particular, the brands Yves Saint Laurent, Gucci and many others. The total fortune of the PPR concern is estimated at 29 billion dollars, the personal fortune of the Pino family is 8 billion dollars. Salma and François-Henri have a daughter, Valentina, whom the actress gave birth to at the age of 41.

Salma Hayek became one of the brightest stars at the 2022 LACMA Art+Film Gala.
Photo: GLOBAL LOOK PRESS
At her age, Salma boldly poses in a bikini and uploads beach photos on social networks. A few secrets help her stay in shape. For example, an artist regularly exercises. It is true that she does not have time for full-fledged training. Salma exercises when she brushes her teeth or goes down the stairs.
– Some people have a habit of doing exercises in the morning, but I didn't build it. I don't have time for sports. Sometimes I work 20 hours a day, Hayek said in an interview.
But Salma is very fond of yoga and diving, it is they that help her keep in shape.
As for nutrition, she does not sit on diets. And he doesn't like beauty injections.
– I am happy when I eat. I have been for many years, but I don't inject botox. And do you know why? Because I eat well! I eat fat, vegetables, everything! If you exercise a lot and eat little, your skin will quickly lose its tone and start to age. And then what? You will feel miserable – says the star.

The actress with her husband, the French billionaire Francois-Henri Pinault.
Photo: GLOBAL LOOK PRESS
Salma does not eat meat every day and also tries to eat more fruits and vegetables. Another secret star remedy is bone broth.
– It has a lot of collagen, proteins and minerals, it is good for health and helps to preserve youth. Thanks to this, I can't inject botox, which I am very afraid of. The right fats are necessary for our body – they restore the structure of the skin, hair, nails, Hayek said.
The actress does not like complicated skin care products. She simply washes her face in the evening and applies her favorite cream in a thin layer.
.